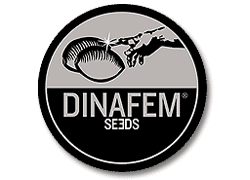 About Dinafem
Dinafem was founded in 2005 by Mr. Greenfinger in Spain after several years of intensive studies and research. The founder was previously apprenticed to English and Dutch colleagues, and was particularly impressed with feminised genetics. At the end of 2003 they harvested the first seeds of Power Kush, it was the first variety they created, after a hard year of work they were ready to enter the cannabis market. Dinafem is a seed bank that distributes internationally the best selection of hemp seeds, from their own and other seed banks, becoming the first professional company in Spain dedicated to the commercialisation of feminised seeds.
All seed varieties meet the highest quality standards, which are achieved by special techniques: All seeds are cleaned by hand from leaves and stems and sorted by size and selected. All seeds are stored under constant temperature and humidity conditions. Before shipping, they are packed in durable tubes so they can not be damaged during transport. The most famous cannabis seeds include Cheese, Critical +, or Industrial Plant and also medicinal varieties with a high CBD content such as Critical Mass CBD, Dinamed or Shark Shock CBD.
It is currently one of the best positioned banks in the autoflowering and feminised market. In our online shop you will find feminised cannabis seeds in packaging of 3 or 5 seeds.