Kiwiseeds - Buy Cannabis Seeds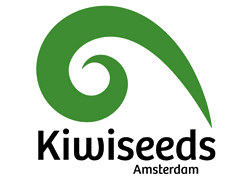 About Kiwiseeds
Kiwiseeds is a Dutch seed bank based in Amsterdam that began in 2002 in the attempt to save the genetics of the "old school" of New Zealand and the South Pacific. Until 1990s the harvests from New Zealand where derived from the mainly sativa genetics from Mexico, Thailand, Vietnam, India, Burma and Cambodia. After years of harvesting and cultivation, these vines had harvests with an incredibly good and powerful quality, therefore opening the way to having a name among the best producers of marijuana.
Among the most popular creations of the Kiwiseeds house are the award-winning Mako Haze, Milkyway and White Island. All these varieties are subject to a strict quality control to guarantee the best results.
In our online shop you can find the best regular and feminised cannabis seeds varieties from Kiwiseeds.
New products for January at Hipersemillas.com
Weed Star (King Size)
0,00

[incl. 21% Tax excl. Shipping]