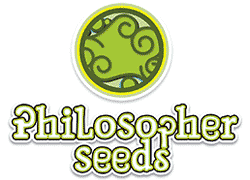 About Philosopher Seeds
Philosopher Seeds started in 2008 as a collective of cannabis breeders that had conserved, crossed and selected their best plants since the 90s. Their work follows a rigorous quality control to ensure a product of the best possible quality. A team of testers perform periodic test cultures of each of their varieties. Over the years, the collective breeders of Philosopher Seeds was growing, presenting new works and expanding its seed collection. Today, the catalog of Philosopher Seeds is divided into 4 well differentiated lines:
Classic Line: This line presents feminised hybrids created from some of the best clones of the 90s, authentic classics that will never go out of style due to their exceptional properties. A wide range of flavors and effects!
Golo Line: Includes a series of spectacular feminised varieties created by Jimmy de Reggae Seeds, a collection of plants with a percentage of THC and CBD ideal for the medicinal use of cannabis and with very exceptional organoleptic qualities.
Auto Line: The line of autoflowering and feminized seeds from Philosopher Seeds. These are seventh-generation auto varieties that perfectly represent the properties of the clones used to create them, but in an autoflowering version.
Regular Line: Inaugurated recently, Philosopher Seeds wants to demonstrate its passion for cannabis aging with this new line of regular seeds, which was released a few months ago with the impressive Jamaican Blueberry BX from the OSG collective and to which other works will be added soon.